September 18, 2010 – There is a battle beginning as silver approaches $21, its highest price in 30-years. There is a lot at stake.
Those who are short silver don't want their losses to become any bigger than they already are. On the other side of the trade, everyone who is long silver wants to see silver appreciate to a fair market value.
This new battle beginning as silver nears $21 is no different than those that have been fought many times over the past decade. When a resistance level is reached, the shorts have repeatedly 'circled the wagons' in an attempt to keep silver from climbing higher. They will probably do it again.
Nevertheless, given that silver has risen from $4.03 early this decade to Friday's close of $20.79, it is obvious that the shorts have not been successful over the long-term. But market battles are fought day-to-day and even hour-to-hour. Plenty can happen in the short-term to cause one to take their eye off-the-ball, but don't let it happen. Instead always focus on the long-term, and here the picture remains very bullish, as is clear from the following chart.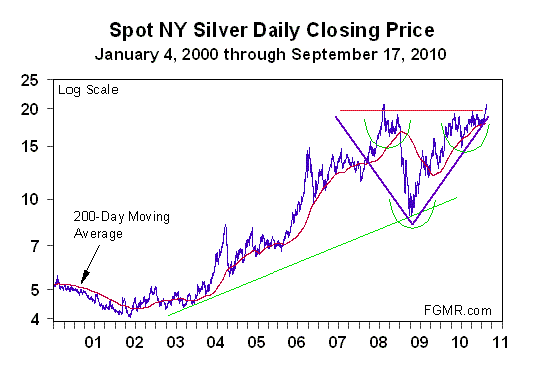 Technically, silver has nearly completed a huge accumulation pattern highlighted by the 'head-and-shoulders' pattern formed over three years. Silver is now approaching the breakout moment that I have been anticipating since April 1st when I wrote that silver looks ready to soar, or even earlier than that when I wrote in my outlook for 2010 that "We need to start thinking about silver hurdling above $50. If it doesn't happen in 2010, this important event – which is unimaginable to many – will I expect happen in 2011."
So the important breakout that we have been waiting for months is at hand. When silver finally hurdles above $21, expect the momentum from new buying that will come into the market to take silver much higher in the months ahead. Notwithstanding the tremendous price appreciation it has achieved this decade, the bull market in silver has hardly begun.
For my specific trading recommendations, see Trading.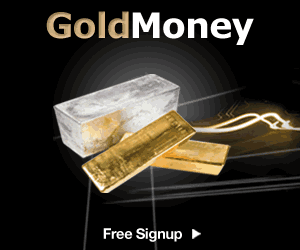 A List of Related Articles Follow ...
Silver Begins 2010 with an Impressive Start