July 9, 2011 – Gold closed in New York this past week at $1,541.20, which is only $15.50 below its all-time record high close of $1,556.70. In other words, a 1% jump from Friday's closing price will put gold at a new record. It could happen this week.
Take a close look at the following chart.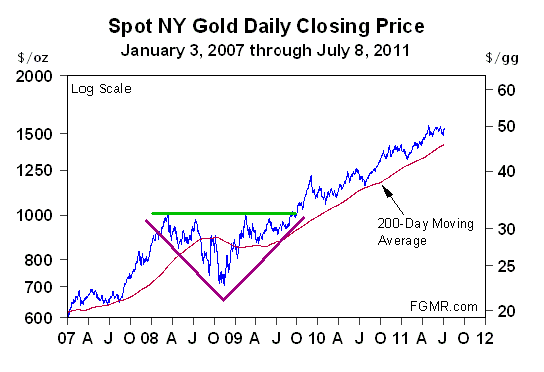 There are a couple of important points to make from this chart. First, note the power of gold's long-term uptrend. After the correction following the collapse of Lehman Brothers, gold has been climbing relentlessly higher. There is no logical reason to suspect that this trend is about to stop here at $1,550, which leads to my second point.
It is unbelievably bullish that sentiment about gold's prospects is so negative with gold so close to making a new record high. As one measure, the Market Vane bullish consensus for gold has been stuck in the 70s percentile despite the fact that support below $1,500 has held repeatedly. The correction that began in early May has done what corrections typically do – drive people out of the market.
Another measure of sentiment is provided by some anecdotal evidence. The mainstream media is hardly discussing gold, in contrast to a steady barrage of bullish stories typically accompanying short-term peaks.
Perhaps the most bullish aspect about gold though is the underlying fundamental factors that have been driving gold higher for years. National currencies are being terribly mismanaged by central bankers and trashed by the uncontrolled spending of politicians. Their policies haven't changed even though it is becoming increasingly apparent that the sovereign debt crisis is leading national currencies toward a train-wreck.
Since the end of May, I have been making the point in interviews on King World News to prepare for a spectacular moon-shot in the precious metals this summer. The rocket may have already been launched, given that since its last test of support under $1,500 on July 1st, gold has risen about $60, or 4%.
For my specific trading recommendations, see Trading.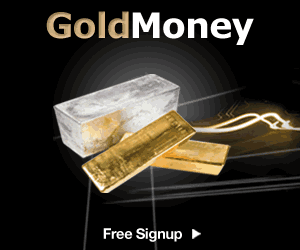 A List of Related Articles Follow ...
Gold Hurdles to New Record Highs