July 27, 2003 – A lot has happened this past week, and as far as gold and silver are concerned, all the news has been positive. I decided to publish this Interim Letter to provide a quick update. And to do this, I will use the accompanying charts.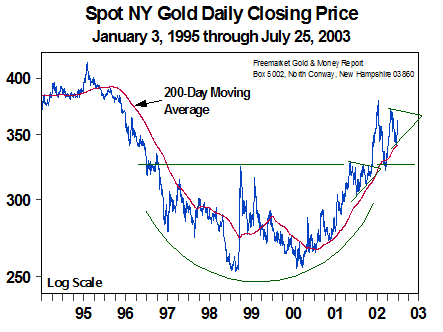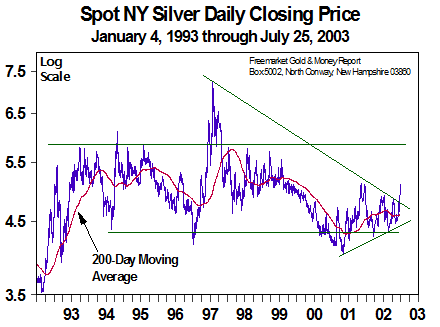 Looking first at gold, we can see that it has bounced off the lower line of the pennant, which is the trading pattern that I expect gold will form over the next several weeks. In other words, I think gold needs to bounce back and forth between the high $340's to the low $370's for several more weeks. Therefore, if my expectation proves to be accurate, we will be given ample opportunity to continue building up our trading positions, which will include adding more calls, in order to take advantage of the move above $400 that I am expecting to occur in September or October at the latest.
Regarding silver, we broke through key resistance at $4.92, which is a level that had stopped silver several times over the past year. This development is very bullish. However, silver has not yet broken above the key over-head resistance at $5.10-$5.12.
On Friday silver closed down 3.5¢, after having risen seven trading days in a row, during which time it gained 45¢, or 9.8%. That was an impressive achievement, so it would not be surprising if silver takes a breather here along with gold.
If silver does slow down here, I would not expect silver to trade below $4.92. Thus, it is possible that we may see a $5.12 to $4.92 trading range for a few weeks.
This pattern in silver would also be consistent with my expectation here for the gold/silver ratio. I didn't include a chart, but the ratio is having a tough time breaking below the key 71.3 level. Therefore, the ratio may be signaling that both gold and silver need to 'do some work' – in other words, complete some base building – before moving higher. But a word of caution is necessary.
Do not lose focus of the big picture. The big picture is that both gold and silver are in a primary bull market. Not only are they in uptrends, but also, their trend is pointing higher. Further, we know from the Fear Index and my other valuation models that both gold and silver remain undervalued at these prices.
The bottom line is that both gold and silver could jump higher at any moment. We may see $400+ gold and $6+ silver at any time. Therefore, don't let any short-term hesitation in the metals cause you to take your eye-off-the-ball. It's a bull market, but as always, just in case watch for and follow my recommended stop-out points.