July 27, 2009 – In my previous commentary, I advised that "the worst is over and further, it looks like both precious metals will bounce from here." We did indeed get that bounce, but it was from an extremely oversold condition. Consequently, we need to give the market more time to prove itself.
Even though both gold and silver have already to some extent tested support after their bounce, I expect that there will be more re-testing of support before the precious metals head higher. Therefore, we should expect some 'backing & filling' for at least a week or two, and perhaps through most of August.
I believe, however, that the lows are now in place. So any retracements over the next few weeks will likely be good opportunities to add to our trading positions.
Turning first to the accompanying gold chart, we can see that the "V" pattern continues to hold. Importantly, gold is now moving away (i.e., higher) from the right uptrend line of the "V".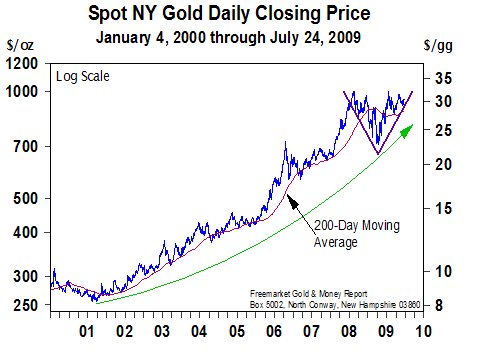 I cannot stress enough the significance of this chart pattern. The "V" is telling us not only that gold is being accumulated, but also, that it is being accumulated by strong hands. Further, these buyers are willing to accumulate gold at ever higher prices, which explains why the right uptrend line of the "V" has formed.
What's more, this "V" pattern, which has been forming now for more than one year, has an inverted "head & shoulders" pattern within the "V". Normally, "H&S" patterns form at important bottoms when selling has exhausted itself. It is therefore extremely rare for an inverted "H&S" to form as it now has within a long-term uptrend. But there is an important message here.
This pattern is telling us that the selling we saw in gold last year after the Lehman collapse has exhausted itself. That selling led to a bottom that was marked by emotion, not logic. It was a classic selling climax.
Both the "V" and the H&S pattern will be complete when gold breaks above $1,000. Given all the buying pressure now building up within these two patterns, my expectation is that when gold is finally ready to break higher and hurdle resistance, it will literally blow through $1,000. It will be a rocket shot, and the "V" is the launch pad.
My view here has important implications for traders. Now is the time to be building your trading position. I do not recommend waiting to buy on the break-out above $1,000. It often is good strategy to buy the break-out, but not this time because you will I expect be chasing a rocket headed to 'the moon' (i.e., well into a 4-digit gold price).
Long-term accumulators of course need not be concerned by gold's gyrations and what may or may not happen. Just keep buying gold, month in and month out. By doing so you are saving sound money.