May 25, 2009 – Our patience is finally being rewarded. The precious metals are on the move, and higher prices are likely in the weeks ahead.
While for months there has been every reason to be bullish about the prospects for both precious metals from both a short-term and a long-term point of view, we have been frustrated time and again. Upside breakouts were stopped cold. The point is that markets do not necessarily move when you want them to. They move when they are ready, and it appears that moment has now been reached for gold and silver.
Gold has been in a correction since March 2008. It has been a period of important base-building, which is now almost complete. As a result, the gold chart look very bullish, and it is not an overstatement in my view to assert that gold is on the verge of an historic break-out that I expect will mark the next leg in this precious metals bull market.
Turning to the following gold chart, I have a number of observations about gold's current technical position.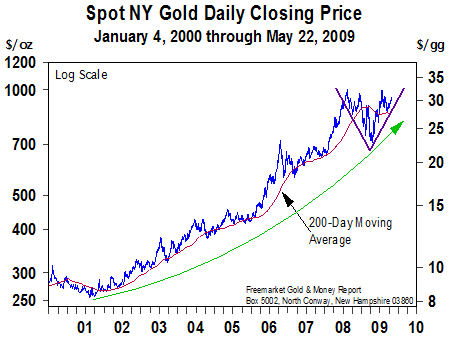 First, the 'head & shoulders' pattern that I highlighted in the last letter and in my last two commentaries on the GoldMoney site is still developing nicely.  This pattern will be complete when gold breaks above $1,000, which event looks likely soon – probably some time in June.
Second, I have expanded the "V" pattern discussed in recent letters to mark the extent of the base. In short, the "V" is huge, both in depth and the length of time it took to form. It will be very bullish for gold to break out from this basing pattern, which represents a base that is big enough and strong enough to carry gold much higher – i.e., well into 4-digits.
Third, this gold chart is prepared to a log scale so that percentage changes appear as equal distances. For example, the distance from $250 to $500 is the same as the distance from $500 to $1,000. But the green arrow indicates that gold is climbing at an accelerating rate, which is very bullish.
Lastly, gold is above its 200-day moving average, and less than 5% below its all-time closing high. Both of these very bullish observations bode well for gold in the immediate future.
Gold is now in the process of completing its 'head & shoulders' pattern. As expected, when gold finally broke through $915, it didn't look back. It just kept climbing higher.
To repeat my forecast from the last letter, now that $915 has been hurdled, "we can expect gold to rally to the neckline at $1,000, completing this H&S pattern." Gold is now doing exactly that. I then went on to say: "H&S patterns can be used to project near-term price objectives. The depth of the H&S pattern represented approximately a 30% correction (gold fell from $1000 to $700). Therefore, it would be normal for gold to exceed the neckline by 30%, which projects a $1,300 gold price when the neckline is eventually hurdled."
My conclusion was that "I think we should be focusing on $1,300 gold as a near-term price objective." That remains my near-term price target. So the question now is whether gold is ready to finally break above $1,000. Only time will tell of course, but everything is lined up nicely for gold. We only have to worry about our old nemesis, the gold cartel.