August 10, 2009 – The chart of the gold/silver ratio is unfolding just as expected.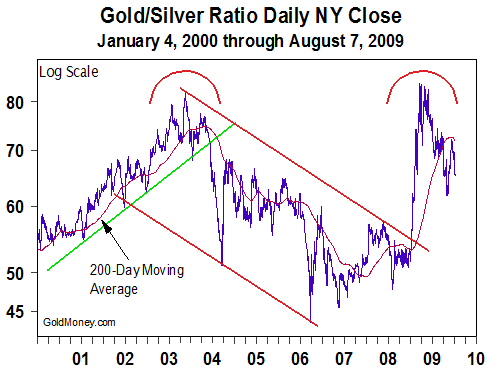 The setback in the metals last month took the ratio all the way up to its 200-day moving average. The probe of resistance at its 200-day moving average did not amount to much, and fortunately, resistance held. Ever since the ratio has been falling, and ended Friday at 65.3.
We can now expect another bounce in the ratio back toward the 70 area. It may even climb back to its 200-day moving average, currently at 71.9, though I consider that possibility to be very low – less than 20%.
The overall look of this chart has become even more bearish. First and foremost is the double-top in the low 80s. Also, the downtrend in the ratio that has formed since making the second top is now better developed. It is therefore becoming more pronounced – and more bearish.
In the last letter I said: "I recommend watching the ratio carefully here. If it breaks convincingly below 69, it will be an early warning signal that the next up-leg in the precious metals has begun." I do not think that we have yet met that criteria.
The ratio has fallen below 69, but we need more work under that key level. So expect some 'backing & filling' between that level and the current level around 65.