August 24, 2009 – Please take a close look at the following chart of the gold/silver ratio.  I have again added to this chart the red horizontal line at 69.  Note that this 69 level is again proving to be a resistance point.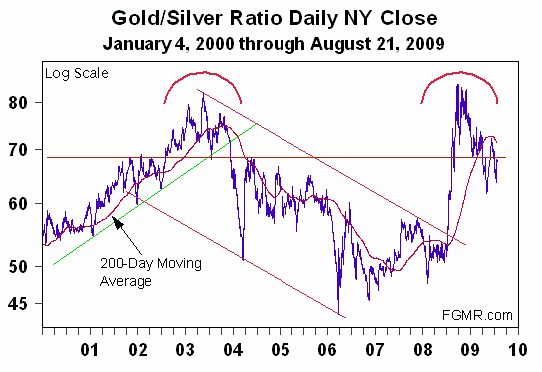 It is possible within the next week or two that the ratio could climb back above 69 if there is another setback in the precious metals as we have seen over the past couple of weeks.  It is of course even possible that the ratio could climb back to its 200-day moving average, currently at 71.3.  But note how this moving average is starting to turn lower.  It is more evidence that the ratio has formed an important top (a double-top actually) in the low 80s.  The line of least resistance for the ratio is lower.
The overall look of this chart is becoming increasingly bearish, which is bullish for the precious metals.  Silver usually outperforms in bull markets.  But there is more work to be done 'backing & filling' before the ratio again heads lower.
The recent low of the ratio is 63.7.  Watch that level.  When the ratio breaks through 63.7, silver will probably have also hurdled resistance at $15.