July 27, 2009 – The red horizontal line on the accompanying chart of the gold/silver ratio marks what had been resistance at 69. That resistance line eventually gave way, leading to a deeper correction, which took the ratio all the way up to its 200-day moving average.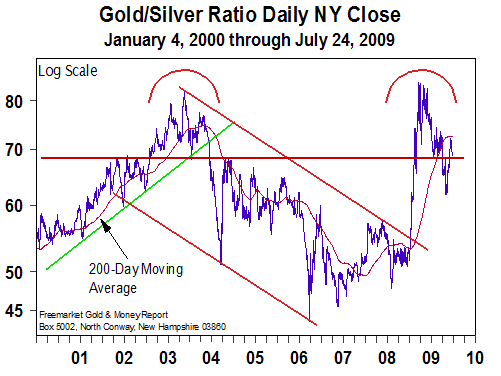 Fortunately, resistance at its 200-day moving average held, and the ratio is falling once again, meaning that silver is again outperforming gold (i.e., climbing more rapidly than gold). But the ratio is now sitting on the red horizontal line. What's next?
The overall look of this chart is bearish, driven principally by the double-top in the low 80s. Also, the ratio has been in a downtrend since forming the second top, and remains below its 200-day moving average.
However, resistance at 69 may cause the ratio to bounce higher once more, before resuming its major long-term downtrend. This bounce would be consistent with my thinking that both gold and silver need to complete more 'backing & filling' over the next few weeks before moving higher. So I would not be surprised to see the ratio jump back into the low 70s, but not climb all the way back to its 200-day moving average, which is currently at 72.5.
In any case, I recommend watching the ratio carefully here. If it breaks convincingly below 69, it will be an early warning signal that the next up-leg in the precious metals has begun.