November 28, 2009 – In my last commentary about gold on October 25, I noted that "gold is a much different market over $1000 because of all the new players being attracted to gold."  Since then we have seen a good example of what I meant.  Gold has rocketed higher, as is clear on the following chart.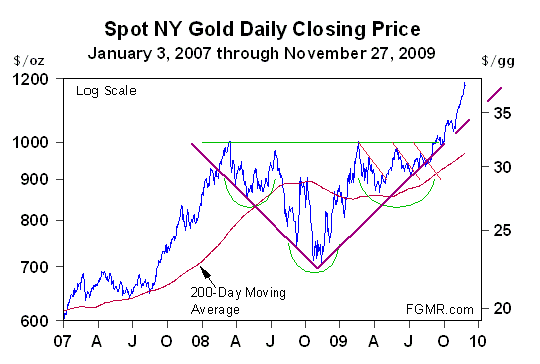 Despite gold's big gains in recent weeks, it is not yet time to take profits.  The above chart remains very bullish, so it is reasonable to forecast higher gold prices in the weeks ahead. 
Gold has clearly broken out from the huge base it formed over the past two years.  This base is a 'rocket pad' that has launched gold, which I expect has the capacity over the next few weeks to climb into the $1200 to $1400 range I forecast for year-end, but it could be volatile.  The $50+ trading range in gold this past Friday may be an indication that more volatility is coming.
In any case, gold is doing what I have been expecting.  Namely, gold hurdled above $1000 with real power and follow-through.  This powerful action is a point I made often made in my media interviews this past summer, namely, that gold would keep climbing once $1000 was hurdled.
What's next for gold?  I still think $1200-$1400 is a reasonable target for the end of this year, so I am staying with that forecast.  But first, it seems likely that gold will re-test support seen this past Friday.  So I expect gold to trade under $1150 some time this week.  If we do see a drop into the $1140s, it will be an ideal opportunity for traders to add to their position.  For my specific trading recommendations, see Trading.