January 9, 2010 – Silver jumped out of the gate to begin 2010 with a flying start.  It climbed a remarkable 9.7% in this year's first week of trading to end the week at $18.458. 
From its $8.79 low barely fourteen months ago after the de-leveraging and mass liquidation of assets resulting from the Lehman Brothers collapse, silver has climbed an astounding 110%.  But the upside fireworks have hardly begun.
As I discussed in my outlook for 2010, there exists the real possibility of a short squeeze in silver this year or 2011.  That short squeeze will propel silver to – and probably over – its January 1980 record high of $50 per ounce.  That event will mark an important step in silver's bull market.  Everything that has occurred in silver over the last thirty years is simply base-building, as can be seen in the following chart.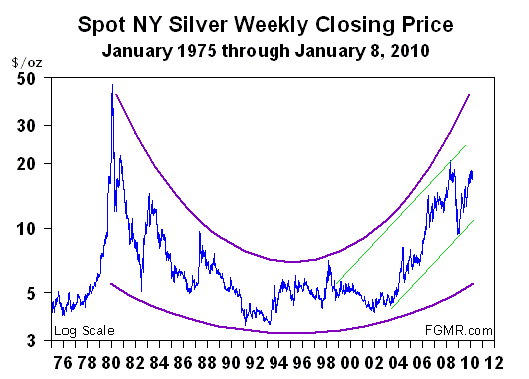 The base-building is marked by the two long-term purple lines that look like the outline of a bowl (or as one reader,TT, suggested, a "huge smile").  This pattern reflects the buying-and-selling that was occurring in silver.
From 1980 to the 1991 low, silver was being 'distributed'.  In other words, there were more sellers than buyers.  Eventually, those circumstances changed, and silver's price stopped falling.  The so-called smart money started recognizing silver's extraordinary undervaluation.  Buying power began to exceed selling pressure, with the result that silver started being 'accumulated'.  Its price began to rise and has been working its way higher ever since.  Silver has been rising this decade within the uptrend channel marked by the two green parallel lines.
Silver's rise from $3.51 in February 1991 to $18.458 at present – approximately a 9.1% annual rate of appreciation over this 19-year period – pales in comparison to what lies ahead.  Silver is still in stage-1 of its bull market; the big price gains don't start occurring until widespread participation by the public begins in stage-2, but that will not begin until silver breaks out of its base when $50 is eventually hurdled.  With that event silver will start garnering worldwide attention just like gold started doing when gold entered stage-2 of its bull market by hurdling above $1000. 
The speculative stage-3 for silver, which will be marked by extraordinary price gains like those of silver's last stage-3 in 1979-1980, is still far in the future.