July 27, 2009 – Silver has also bounced over the past couple of weeks since the last letter. In fact, silver has outperformed, rising 8.5% during this period compared to gold's 3.3% climb.
Turning to the page-3 silver chart, there are a couple of important observations. As noted in the last letter, silver did slightly break the right uptrend line of its "V" pattern, but as expected, it did not amount to a pattern failure. These slight breaks of trends often occur in silver because it is more volatile than gold.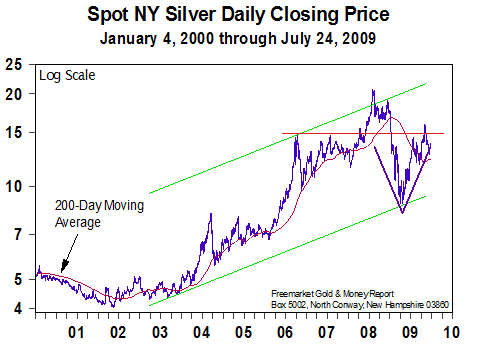 More importantly, silver – like gold – is now climbing higher from the right uptrend line of the "V". My expectation is that there will likely be some 'backing & filling' over the next couple of weeks. But it won't be long before silver is probing overhead resistance at $15, the red horizontal line on its page-3 chart.
In summary, we are still basically in the same situation described in recent letters. Gold and silver are in 'no-man's land', waiting to break-out from long-term accumulation patterns.
To break out from this no-man's land, gold needs to climb above $1,000. Silver once again has to hurdle its overhead resistance at $15. I expect that they will do so soon. I remain very bullish on both precious metals.