April 1, 2010 – Everything is lining up for silver, which looks ready to soar.  The catalyst to launch silver like a rocket may very well turn out to be last week's CFTC hearing, which revealed the huge naked short position in the precious metal markets. 
In my annual forecast for 2010, I said: "We need to start thinking about silver hurdling above $50.  If it doesn't happen in 2010, this important event – which is unimaginable to many – will I expect happen in 2011."  The following chart suggests that my forecast is still on target.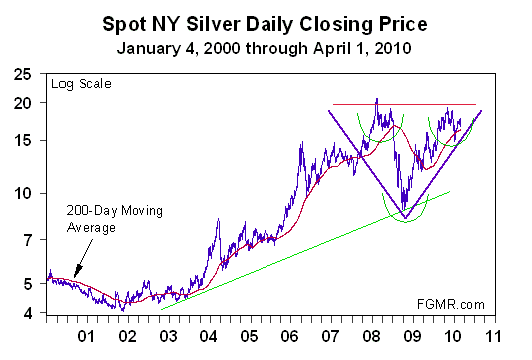 Silver has formed a huge accumulation pattern.  One could even make the case that it is a reverse 'head & shoulders' pattern, with two shoulders that are shallow compared to its deep head.  The right shoulder is now being completed, and the pattern will manifest its bullish significance when silver climbs above the neckline around $20.
Looking at it from a pure technical point of view, this pattern can forecast silver's price target.  The difference from the neckline to the bottom of the head is about $13.50.  When this difference is added to the neckline, the near-term objective on the breakout is $33.50.  In other words, the upside breakout from this pattern could be breathtaking.
For my specific trading recommendations, see Trading.