August 24, 2009 – The S&P 500 and the other major stock market averages face an important test in the weeks immediately ahead.  Please take a look at the following chart of the weekly closing price of the S&P 500.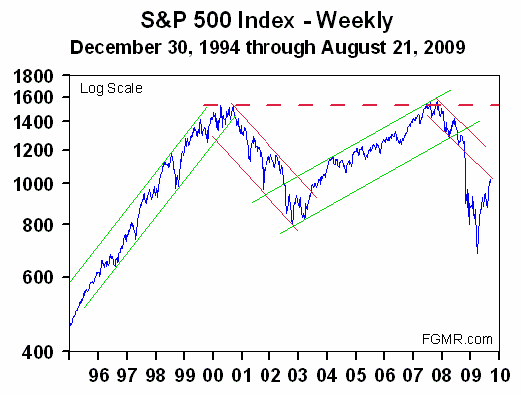 The S&P 500 broke down from its downtrend channel as the financial crisis worsened last year.  Recently the S&P 500 has been soaring along with most other market averages and has retraced back to the bottom of its downtrend channel.
The question now is whether the S&P 500 will climb back into this downtrend channel.  I expect that it will because the dollar is heading toward hyperinflation.  Valuations don't matter when investors are willing to hold anything but US dollars.
Nevertheless, despite this bullish outlook for stocks, I continue to recommend that investors stay out of the stock market (except for my recommended stocks).  Continue to hold 'gold-cash', not 'dollar-cash', thereby keeping your money safe and sound in bullion until stock prices fall to more reasonable levels when measured in terms of gold.