August 24, 2009 – Gold again re-tested support as expected.  Gold dropped right into our buying area.
Believe it or not, but I think that we will get one more chance to buy on a dip toward support.  There is in my view a better than 50% probability that the precious metals will test support one more time.  So be prepared for another dip in prices this week.
Long-time readers of these letters know how well we have done by being mindful of option expiry.  The gold cartel digs in its heels at expiry, particularly on key Comex delivery months, to drive down prices to maximize profits on the options it sold.
With each passing day, it is becoming increasingly likely that the lows for gold and silver are now behind us.  More importantly, we are inching ever closer to the big upside breakout that I am expecting for gold and silver sometime before the end of October.  Consequently, any retracement toward support this week will likely be a good buying opportunity.  We now need to again re-build our trading positions in anticipation of much higher prices as we move toward the end of the year.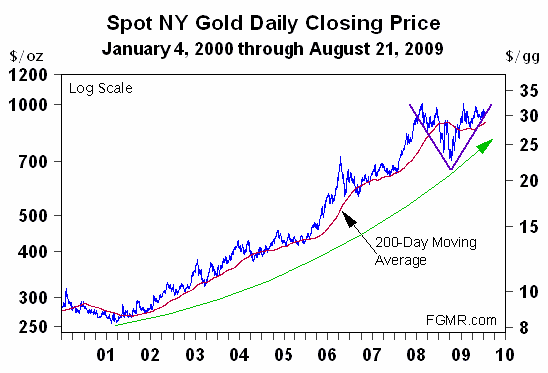 In the above gold chart, the "V" pattern continues to hold well.  More importantly, gold is inching ever closer to $1,000.  This "V" pattern and the 'head & shoulders' pattern forming within the "V" will be completed when gold finally breaks higher and successfully hurdles the $1,000 level once and for all.
Though I have mentioned it many times, it bears repeating that this gold chart is extremely powerful.  This "V" pattern clearly illustrates the buying pressure that has been building for months.  It will be the launch pad that takes gold over $1,000, and then propels gold higher like a rocket.
Therefore, watch this "V" and $1,000 carefully.  When gold finally breaks above $1,000, all the buying pressure now building up within the "V" will be unleashed, launching what I expect will be a spectacular gold rocket-shot.