June 8, 2009 – We can now see with the benefit of hindsight how important support was in the 68-69 area for the gold/silver ratio. When this support level finally gave way, the ratio sliced right through it and continued to tumble lower, with silver outperforming gold.
This outperformance is important. It means that money is moving into the precious metals, which is bullish for both gold and silver.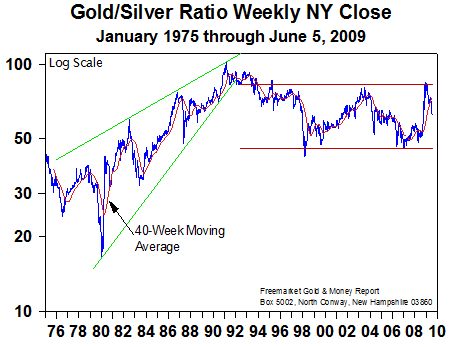 Turning to the accompanying chart of the gold silver ratio, it seems safe to say that the top in the low 80s is now firmly in place. The ratio is now at 62.5, and I think we can expect the ratio to move back to the bottom of its trading range at 45.
If I am right that gold jumps to $1,300 after it breaks through resistance at $1,000, then a 45 ratio would put silver at $28.90. A ratio of 50 would put silver at $26. Since I am expecting to see $1,300 or more this year, is it reasonable to expect to see silver in the high $20s some time this year?
Well, only time will tell of course. But these prices are what the charts are telling us – or at least that is my interpretation of the charts.
In any case, there is one key message from the gold/silver ratio. It is headed lower, so silver will continue to outperform gold. It is the reason why I am so bullish on silver. As bullish as I am about gold, I am even more bullish about silver both in the long-term as well as for the rest of this year.