July 10, 2009 – As is clear from the following chart, we can see that there was some technical damage to the XAU Gold Mining Index.  After finally climbing above the key resistance level around 134, the XAU dropped once again into the high 120s.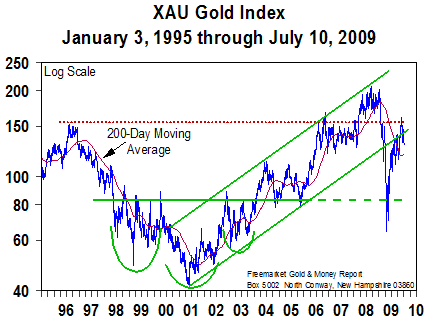 This outcome is of course disappointing, but the technical damage has fortunately been contained.  The uptrend from last year's low remains intact.  Also, the XAU remains well above its 200-day moving average, which is currently at 119.35. 
The XAU could move all the way back to this moving average, and its chart would still look all right.  I don't expect that to happen, but we need to remain alert to all possibilities.  To a certain extent the XAU has been carried lower along with a declining stock market, but if stocks move lower from here, I do not expect them to carry the XAU along with them.