July 13, 2009 – I have included again the same chart of the Dow Jones Industrials Average presented in the last commentary. Please take a close look at this chart.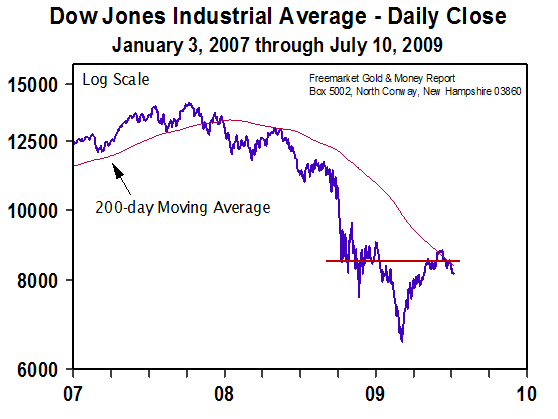 The DJIA could not climb above its 200-day moving average and has now slipped back below overhead resistance (the horizontal red line on the chart). The Dow looks oversold and could bounce, but for now, the trend is pointing lower.
So for now, I continue to recommend that investors stay out of the stock market (except for my recommended stocks). Continue to hold 'gold-cash', not 'dollar-cash', thereby keeping your money safe and sound in bullion until stock prices fall to more reasonable levels when measured in terms of gold. I do not have any trading recommendations at the moment.