January 31, 2005 – In the previous article I provided a bullish forecast for gold and the gold mining stocks in 2005. My comparison was to 1987.
After gold rose in 1986 while the mining stocks fell that year (the same as happened in 2004), the XAU jumped 43.9% on 1987's 20.1% rise in the gold price. I expect that 2005 will look at least as good, and in this letter I would like to provide a brief review of my recommended portfolio of mining stocks.
Here is the up-to-date list of my recommended mining stocks and their current price.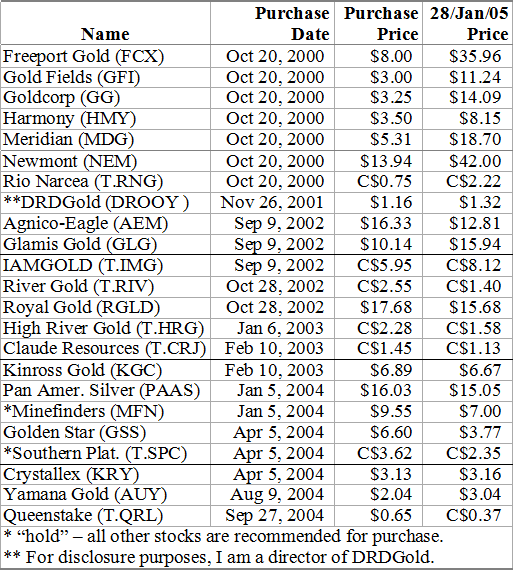 I have the following comments and observations about the mining stocks.
If you are looking for dividend income, FCX would be high on my list of stocks to buy. I remain bullish on copper as well as gold, and higher prices would mean that FCX's cash-flow will continue to rise, giving them more opportunities to repeat their recent years' performance of raising their dividend.
I've changed SPC to a 'hold'. The stock has bounced from oversold levels, but there is still a lot of uncertainty about its near-term outlook because of the strength in the rand and their debt level. There have been repeated rumors that SPC will be taken over. Whether true or not, I don't know, but SPC is trading below its asset value. So I don't recommend buying more, but I do recommend continuing to hold it.
Durban Deep has changed its name to DRDGold to reflect the fact that more than one-third of its gold production and revenue now come from Australasia, reducing the importance of its South African roots. Also, the following article may be of interest: www.miningmx.com
The South African stocks have been beaten up because of the strong rand. We sold our Anglo Ashanti, which just reported a very bad quarter. I recommend staying away from AU for now because even if gold jumps from here, I expect AU will under-perform the other stocks. In other words, the stocks on my recommended list offer better opportunities.
GFI and HMY remain beaten up because of the strong rand, though GFI has been impacted less because it generates a greater percentage of its revenue outside of South Africa. The stock price of both companies continues to reflect the uncertainty surrounding their ongoing takeover battle.
Other stocks that have taken a drubbing of late are GSC and QRL. Both though remain on my accumulate list. QRL comes out as the most undervalued stock at the moment. QRL will begin announcing its production results monthly, which hopefully will go a long way toward re-establishing confidence that the company will be able to meet its targets.
One stock to watch is Aurizon Mines Ltd., a smaller Toronto-listed Canadian company (ARZ) now also listed on the Amex (AZK). I'm not ready yet to recommend buying it, but I like very much its ongoing development at Casa Berardi, which has the potential to become a significant ore body. More information is available on its website, www.aurizon.com.
To conclude this overview, I would like to turn to the following chart of the XAU Index of gold mining shares.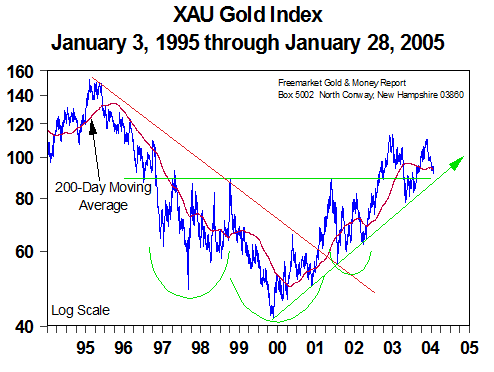 This is the same chart I presented in the last letter, and it is one that we have been watching for years. It's an important chart because we can see that a major bottom in the mining stocks has been put into place (marked by the 'head & shoulders' pattern and the breakout above the horizontal neckline).
In addition to breaking above the neckline around 88, the XAU remains in the same uptrend that began back in late 2000. What's more, the XAU is right back into important support in the low 90's and above the neckline in the 88 area.
I expect this 4-year old uptrend line will hold, as it has so many times over the past few years. Consequently, I still see this ongoing correction in the price of the gold mining stocks as a great opportunity to continue accumulating these stocks. And given my bullish outlook for bullion in both the short-term as well as for the rest of the year, I also think we are at – or at least very close to – the low for the mining stocks for the year. I expect that the 88-90 support level on the XAU will hold.
Regarding overhead resistance, watch the 96 area. Once that level is hurdled, the odds dramatically improve that the low in the gold mining stocks is behind us.