July 11, 2010 – The Fear Index has risen to a 16-year high.  As of June 30th, the Fear Index is 2.35%, based on M3 data made available by shadowstats.com.  Here is the formula and calculation for June 30th:

The following chart illustrates the Fear Index at the end of each month since December 1967.  It also highlights important low points in the Fear Index and the gold price at those points in time.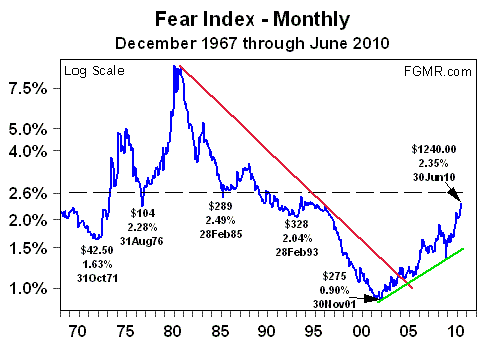 There are two important conclusions to be made from the above chart.
1) The Fear Index remains in an uptrend.  Given the ongoing uncertainty about bank solvency and sovereign debts that cannot be repaid, there is no reason to assume that the Fear Index is about to reverse course any time soon.  It is therefore reasonable to expect that the Fear Index will keep climbing higher.  Given the formula above, this result can be achieved in two ways.  M3 has to decline and/or the gold price must rise.  I expect it will be the latter.
2) Do not be misled by today's seemingly high price of gold.  Even though gold was $1,240 at June 30th and near its record high price, gold remains good value.  Note that the Fear Index is still less than the 2.49% low it reached in February 1985.  The Fear Index is still less than the 2.60% level marked by the dashed line on the above chart that I have used to delineate exceptionally low levels reached by the Fear Index. 
Thus, gold remains good value and should continue to be accumulated.  The Fear Index makes clear that gold's high price is simply a result of the debasement of the dollar, and not that gold has become overvalued.