July 18, 2010 – Two months ago I stated that silver is inching closer to an upside breakout.  It turns out that "inching" was the right word because since then silver has been moving at a snail's pace.  Nevertheless, the huge accumulation pattern that silver has been building over the past three years remains intact, as can be seen on the following chart.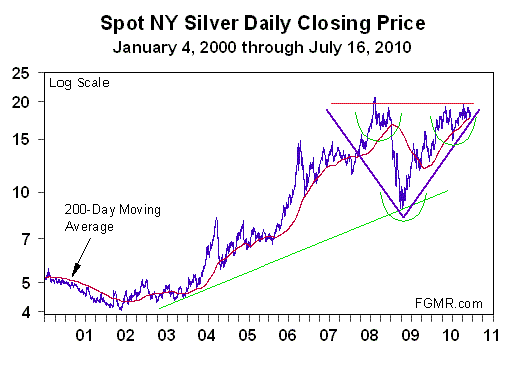 The accumulation pattern on the above chart is nearly complete.  All silver needs now is one last push above the neckline around $20.  As I noted back on April 1st, silver looks ready to soar once that key level is hurdled.
In presenting my outlook for 2010 I said: "We need to start thinking about silver hurdling above $50."  Noting that this event was only a 20% probability in my view for 2010, I went on to add that "this important event – which is unimaginable to many – will I expect happen in 2011."
That forecast remains on track, but two events are necessary.  The obvious one is that silver must first hurdle above $20, but secondly, silver needs to approach $30 this year.  This $30 price target is needed to keep silver on track for challenging $50 next year.
Given that we are now in mid-July, the limited time constraint means that $20 needs to be hurdled soon if silver is going to reach $30 before the end of this year.  As a consequence, the next few weeks will be critically important for silver.
For my specific trading recommendations, see Trading.