Gold has been pushed into an extremely oversold condition. Fortunately though, and quite remarkably given this relentless selling pressure, little damage has been done to its chart.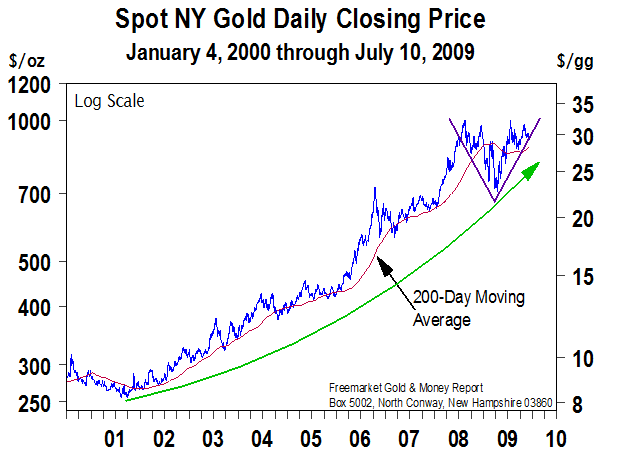 So while gold  dipped back deeper than I expected, I think the worst is over and further, it looks like both precious metals (gold and silver) will bounce from here.
Turning first to the accompanying gold chart, we can see that the "V" pattern continues to hold. Gold is now resting on the right uptrend line of the "V". Importantly, gold is very oversold even though it remains well above its 200-day moving average, currently at $877.06, which is a remarkable achievement given the selling pressure it has endured. It shows strength.
I wrote in the last commentary about the significance the $912-$915 level. Earlier this year gold was relentlessly pushed back from that area.
When gold finally hurdled above this resistance level, it shot up to $980. Since then gold has fallen back and now sits right in this important support.
The way gold has been trading the past week shows signs of underlying strength. For example, gold closed below this support level but snapped right back above it the next day. That is very positive trading action.
Few people look for the metals to rally during the summer months, which is normally – but not always – a time of low demand. This could turn out to be one of those summers that surprises everyone, with big rallies in both precious metals.
In summary, we are still basically in the same situation described in recent letters, but at lower prices. The point is that gold is in no-man's land. It has been in a short-term downtrend, but both precious metals (gold and silver) rest above important support (and their 200-day moving averages).
To break out of the no-man's land, gold needs to climb above $1,000. In short, I remain very bullish on both precious metals