September 26, 2009 – The precious metals began a correction last week, which was fueled by gold's inability to penetrate resistance above $1000 after several determined attempts.
I am encouraged by the relative performance of the gold/silver ratio.  Though the ratio has bounced, which is to be expected in any correction, my recommended stop-out point has not been hit.  I like to see good relative strength in the ratio like this during a correction.
The ratio closed on Friday, September 25, 2009 at 61.7.  If it remains below 62.2 (basis the daily closing price of gold and silver on the New York Comex), I would then expect this current correction in the precious metals to be short-lived.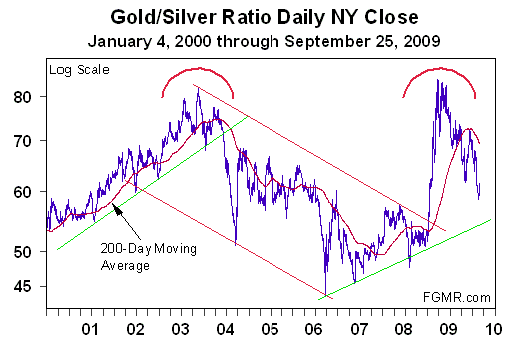 Let's watch the ratio for a day or two, or perhaps through month-end.  Its performance during this period will I expect signal whether the correction in the precious metals is ending.  See Trading.