February 3, 2011 – An article today in The Wall Street Journal highlights the latest rise in the price of wheat.  Blaming bad weather, it notes that the "global wheat market is caught between freezing winds and a sirocco."
The WSJ therefore warns that "investors should beware of whiplash as weather normalizes."  Given that wheat is "up 13% since the start of December", it is good advice – if weather were to blame.
The reality is that wheat is being driven higher by more than bad weather.  The price of wheat has been climbing since June, a fact conveniently ignored in the WSJ article, perhaps because it doesn't square with its premise that bad weather is causing higher wheat prices.  Are we to believe that the market knew seven months ago that weather around the world today would be so bad that it would impact global wheat output?  Or has wheat – which has risen $3.50 per bushel, or 70%, since its June low – been climbing steadily higher over these several months for another reason?  And more to the point, why are all commodity prices rising?
For example, since June copper has risen $1.70 per pound, or 59%.  Is bad weather to blame?
No, of course it isn't.  Something else is at work here.  Maybe wheat has risen more than copper over this period because bad weather really has had some impact on wheat production.  But obviously, given that commodity prices are rising across the board, we have to look for other factors that are causing this surge in prices.  And we do not need to look too hard.  Just consider the money printing – a/k/a "quantitative easing" – by central banks going on all around the world.  QE is building up tremendous inflationary pressures in the pipeline of goods and services, which for months now has been showing up in the area most sensitive to monetary debasement, namely, commodity prices.
The WSJ article ends by warning that "political storms could provide a tailwind for wheat prices."  That could be, but right now, the gathering monetary storm is far more important, and there is one easy way to seek shelter – buy physical gold.  Look at the correlation between gold and the CRB Continuing Commodity Index in the following chart.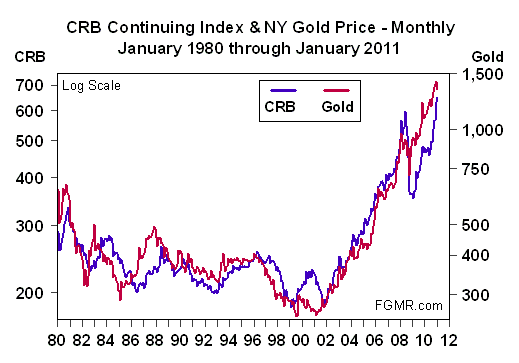 The above chart makes one point crystal clear.  Rising commodity prices are not short-term phenomena.  Except for a brief deflationary blip in 2008 after the collapse of Lehman Brothers, this CRB Index of 17 essential commodities has been rising steadily all decade – and it is meaningful to note, so too has gold.
So I wouldn't worry about any shortage of wheat, provided you own physical gold.  Farmers will continue to grow produce, and the market in which money is exchanged for food will continue to function as it has since humankind began to interact in commerce thousands of years ago.  So regardless what happens to the price of wheat, you will continue to buy bread in the future just like you do today, provided you have physical gold to preserve your purchasing power from the ongoing debasement of national currencies being engineered by governments and central banks.