May 22, 2010 – Silver is inching closer to its long-awaited upside breakout.  The huge accumulation pattern that silver has been building over the past three years is almost complete, as can be seen on the following chart.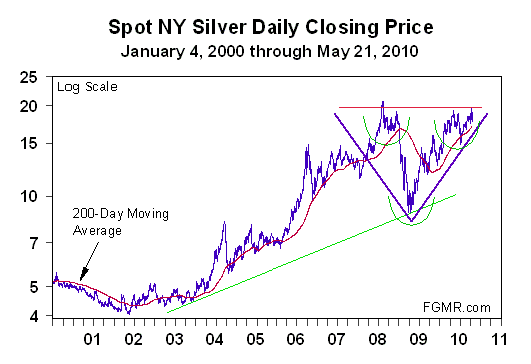 I noted in my last commentary that silver looks ready to soar and more to the point, that the developing chart pattern "will manifest its bullish significance when silver climbs above the neckline around $20".  That moment is rapidly approaching.  Last week's correction in prices may perhaps be the last one before silver's upside breakout.
Few people expect silver prices to rise during the summer, which is normally considered a quiet period for precious metal prices.  Maybe the big surprise this year will be a spectacular summer rally for the precious metals.  After all, that is what the silver chart is telling us.
For my specific trading recommendations, see Trading.