June 29, 2009 – Continue to accumulate the precious metals. By doing so you are saving money, but it is sound money and not depreciating national currency.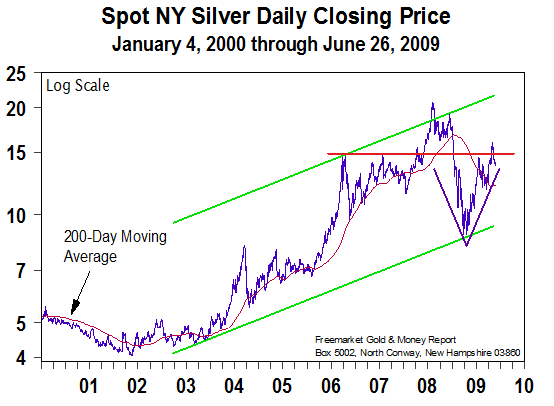 Turning to the silver chart above, there is good news and bad news. The bad news is that silver has fallen back below support at $15. I had expected that once hurdled, the $15 level would offer solid support, but it didn't. In typical fashion for volatile silver, selling pressure overcame the buying at that level. So instead becoming silver's new base of support, it once again has become over-head resistance.
The good news – and an item of far greater significance for silver's future prospects – is that silver remains within the huge "V" pattern that it has been forming (like gold) for more than one year. It shows that silver continues to be accumulated, which is not surprising given that on a relative basis, silver is even better fundamental value than gold. Evidence of this conclusion is the gold/silver ratio, which remains well above historical norms (see Gold/Silver Ratio, 29 June, 2009).
In summary, we are still basically in the same situation as the last letter. Silver once again has to hurdle its overhead resistance at $15. Look for silver to close above $15 before gold manages to close above $1,000, given that silver almost always leads. But regardless, I remain very bullish on both precious metals.