May 4, 2009 – Markets always require vigilance and patience, but sometimes they demand even more. They sometimes require extraordinary patience. We are at one of those moments in time with regard to gold and silver.
There is every reason to be bullish here about the prospects for both precious metals, both over the long-term and short-term. The purchasing power of national currencies in general and the US dollar in particular is being eroded as central banks pursue a zero interest rate policy and quantitative easing. These actions are inflationary, and consequently, the bull markets in gold and silver are alive and well. Importantly, I expect that we will soon see clear evidence to support this conclusion.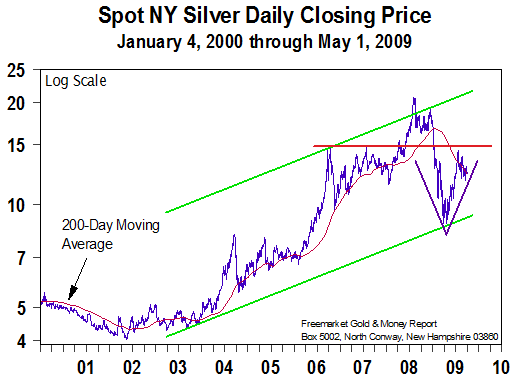 Turning to silver, I have made some changes to the above chart. Note the horizontal red line drawn at $15. View it to be a dividing line, between overhead resistance and underlying support.
To explain this point, we can see that silver bumped up against $15 in 2006 and most of 2007 until finally breaking above this level. However, in the massive asset liquidation that followed the collapse of Lehman Brothers last year, silver broke back below this $15 barrier.
For the past several months silver has been regrouping by again building support below $15. That is what the "V" pattern on the chart is showing us. Silver again approached $15 in February, but could not hurdle above this barrier.
Thereafter silver has been quietly settling back, with the emphasis on 'quietly'. It is important to note that silver has dropped off the radar screen of most people. That is bullish news.
What's more, silver is trading very 'tight'. For example, from the February high to last month's low, silver dropped only 18.7%. That small decline is inconsequential compared to the volatility seen in a normal silver correction. It signals to me that silver is being wound up like a spring and is about to explode higher.
I noted in the last letter that it was not significant that silver is below its 200-day moving average, given the overall picture presented by the page 3 chart. Silver (like gold) is climbing along the uptrend line marked by the "V" pattern.
In summary, as I noted in the last letter, any silver price below $13 can be compared to gold below $900. They both are areas which denote exceptional value for the precious metals. In other words, both areas offer ideal opportunities at which to accumulate metal, which is what both traders and investors should be doing.