August 24, 2009 – Silver dropped into our buying area, but silver did not close below the level needed to trigger my buy recommendation.  I think that we will get one more chance to buy on a dip toward support.
There is an important Comex option expiry on August 26th for silver, and then expiry for silver over-the-counter options will end the following day.  So those days will I believe be a good buying opportunity.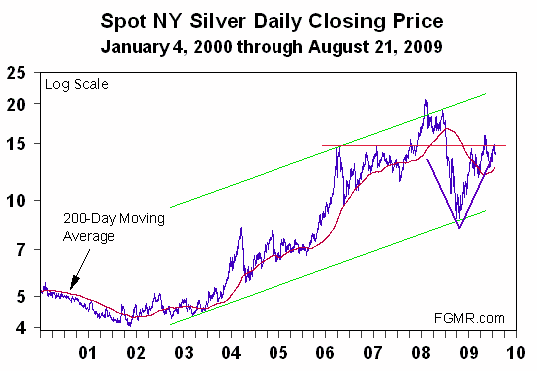 Silver was stopped at resistance at $15, which is the red horizontal line on the above chart.  After several unsuccessful attempts to break through that level, silver fell back into support.
Silver subsequently traded through my $13.80 target, but did not close below that level.  I think we will have one more chance to buy under $13.80 during option expiry this week.
Despite this latest pullback in silver, the above .  Importantly, the "V" pattern remains intact, and like the similar pattern in gold, provides a strong base that will launch silver higher.
Additionally, note how silver's 200-day moving average has turned and continues to climb higher.  It is a positive development that signals upward momentum in silver is developing.
Also, I would like to re-emphasize an important point made in the last commentary.  There is an ever growing number of trading days under the red horizontal line at $15 than above it from the end of 2007 up to mid-2008.  Consequently, the overhead resistance above $15 is becoming less and less troublesome.
The net result of these observations is that there is considerable upside momentum building in silver.  That buying pressure will start being released when silver eventually climbs above resistance at $15.
The buying pressure building under $15 – as illustrated by the "V" pattern on the above chart – will I expect carry silver to a new multi-decade high over $20.  I expect that it is probable this $20 target will be reached before the end of this year.
In summary, I think there will be one more dip in silver over the next week, or perhaps into early September.  But that will be it.  The correction that began in March 2008 with a record high in gold and multi-decade high in silver is rapidly coming to a close.  It is only days – or perhaps a few weeks – away.  So we need to be re-building our trading positions.
While silver is poised to move higher, we need a little more patience.  To repeat the point made in recent commentaries, we are still basically in the same situation.  Silver is in 'no-man's land', waiting to break-out from its long-term accumulation pattern.
To break out from this 'no-man's land', silver has to hurdle its overhead resistance at $15.  I expect that silver will do so soon – i.e., no later than the end of October.  I remain very bullish on both precious metals.