June 29, 2009 – The Dow Jones Industrials Average is at a very interesting juncture. Please take a close look at the following chart.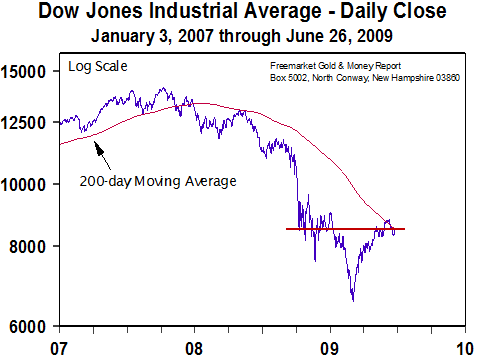 As the dollar moves toward hyperinflation, I expect stocks to rise. I explained this point in recent letters. The general averages will not do as well as gold, and certain sectors with the stock market will do better than most, for example, mining and natural resource stocks will outperform. But the accompanying chart shows the DJIA slipping back below its resistance point, i.e., the red horizontal line. An objective reading of this chart places a high probability on the DJIA falling back toward 8,000, and prices even lower cannot be ruled out.
Interestingly, the chart does appear to be forming a 'head & shoulders' bottom, with a neckline around 8700. The right shoulder is now being formed, but it is too early to conclude that this pattern is in the making.
So for now, I continue to recommend that investors stay out of the stock market (except for my recommended stocks). Continue to hold 'gold-cash', not 'dollar-cash', thereby keeping your money safe and sound in bullion until stock prices fall to more reasonable levels when measured in terms of gold. I do not have any trading recommendations at the moment.