June 29, 2009 – Gold's enemies, namely, those banks comprising the nefarious gold cartel and acting under the direction of the supra-governmental Exchange Stabilization Fund, are throwing everything they can at gold in an attempt to reverse its ongoing advance. Consequently, gold's push to $1,000 has been halted by this intensifying resistance, but this setback is only temporary.
I noted in the last letter that "the gold cartel is pulling out all the stops to try keeping gold from climbing above $1,000″ and "the battle for $1,000 will not be easy." We are now witnessing a sample of what I meant. But as I also noted in the last letter, "gold always wins." All we need is more patience.
In the meantime, continue to accumulate the precious metals. By doing so you are saving money, but it is sound money and not depreciating national currency.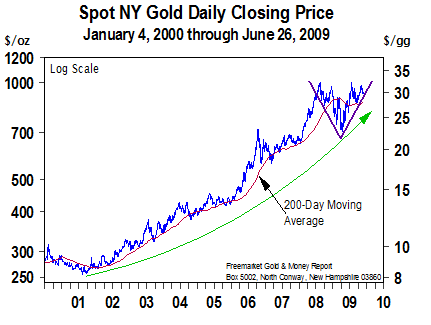 Turning first to the accompanying gold chart above, there are a couple of important observations to make. Gold was pushed back into the $920 area twice. Both times it held this support level. Readers will remember how much resistance gold had encountered in the $912-$915 level. It is therefore significant that gold held above this level. What's more, gold accomplished this feat twice, which is yet more evidence of the subtle, but underlying strength being displayed by gold.
The next observation is that even though gold's climb toward $1,000 has been interrupted, the "V" accumulation pattern that gold has been forming for more than one year remains intact, as does the "head & shoulders" pattern within the "V". These are very bullish chart formations, and the H&S pattern will be complete when gold breaks above $1,000.
The last observation is that gold's 200-day moving average is starting to noticeably bend and point upward. It is one indication that momentum is turning in gold's favor.
I had been forecasting that the break above $1,000 would occur in June, which obviously is now an extreme and unlikely long-shot given that there are only two trading days left this month. So we need to set our sights on the $1,000 barrier being hurdled in July.
Remember, when it finally does happen and gold climbs this barrier, it will not only be a momentous event, but I expect gold to just keep climbing.
In summary, we are still basically in the same situation as the last letter. Gold needs to hurdle above $1,000.