July 13, 2009 – I noted in the last commentary, the importance of resistance for the gold/silver ratio at 69. I even drew a red horizontal line at that level, which can be seen again on the accompanying chart. I also warned: "We simply have to stay alert for the possibility of a deeper correction."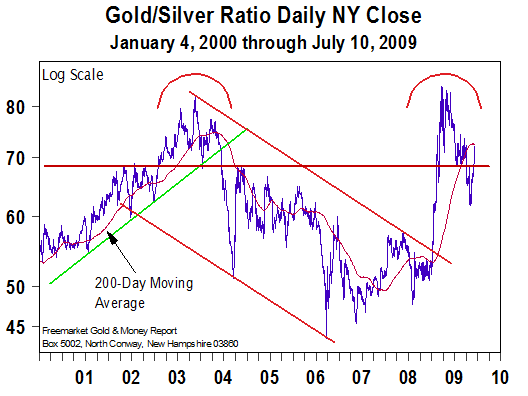 Unfortunately, a deeper correction is what was handed to us. The recent weakness in silver caused the ratio to break above the 69 level. Thereafter, the ratio has now climbed back toward – and almost touched – its 200-day moving average, which is currently at 72.5.
This moving average is starting to roll over. I therefore do not expect the ratio to break above it. Also, the important double-top in the low 80s is formidable, which adds to the bearish look of this chart pattern.
I therefore expect the ratio to begin falling once again, meaning that silver will be outperforming (i.e., climbing more rapidly than gold). Consequently, traders can again sell the ratio. I recommend selling the ratio (buy silver and sell an equal dollar value of gold) at the market (today's close for record keeping). Stop-out this trade on the first close in the ratio in New York above 74 or 4% above your sale price, whichever is lower.