September 18, 2009 – The performance of the gold/silver ratio over the past month has been stunning.  From a high of 68.0 on August 19, the ratio closed today in New York at 59.2, a remarkable 12.9% gain.  In other words, the silver you own has outperformed, or appreciated, 12.9% more than your gold.
This tremendous move in the ratio is clear from the following chart.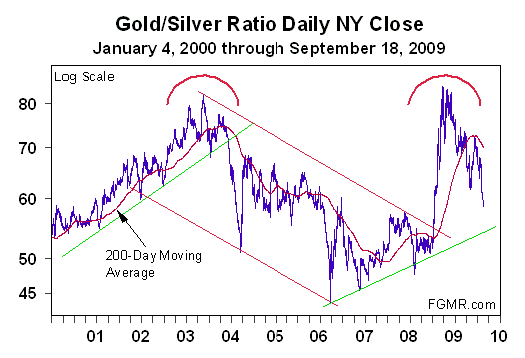 It is interesting to note that the ratio has had big declines before.  Note how it fell from the end of 2003 into 2004 and then had another big decline two years later, although not to the same degree.
In any case, we cannot say that this current decline is just an aberration or that it could not possibly drop any further.  The reality is that it just might.  Maybe it will even drop on this current decline (and before any meaningful correction) to the green uptrend line on the above chart, currently about 54.
There is nothing to do now but watch and wait.  I do suggest though tightening up our stop-out point further, even though I just did that only two days ago on September 16.  See Trading.