Silver (and gold) have been pushed into an extremely oversold condition. Silver, for example, has dropped on 7 of the last 9 trading days, declining 10.5% during this period. That is extreme selling pressure.
Fortunately though, and quite remarkably given this relentless selling pressure, little damage has been done to its charts.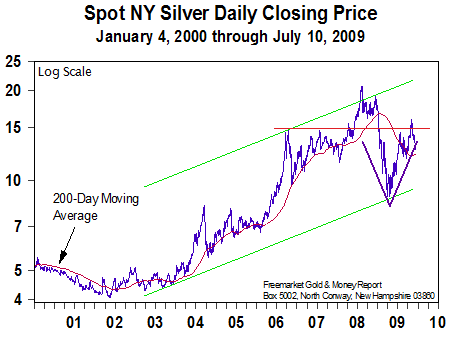 So while silver has dipped back deeper than I expected, I think the worst is over and further, it looks like both (silver and gold) precious metals will bounce from here.
The selling pressure in silver over the past few weeks has been even more intense than it has been for gold. I note above how precipitously silver has dropped over the last nine trading days. It is highly unusual for silver to drop like that in such a short period of time, even allowing for the fact that silver is much more volatile than gold. Nevertheless, as we can see from the page-3 chart, silver has not broken down, though its pattern is looking somewhat frayed.
Silver has slightly broken the right uptrend line of its"V" pattern, but this penetration has not carried nearly far enough to call it a trend reversal or a pattern failure. Those events may of course still occur in the future, but for now, silver seems to have weathered the storm well enough to suggest that it is ready – like gold – to bounce higher from here.
At the very least, even if silver's short-term trend is not reversed to the upside, look for a relief rally. But given the negative sentiment now prevailing, it seems likely that silver has made an important low.
Few people look for the metals to rally during the summer months, which is normally – but not always – a time of low demand. This could turn out to be one of those summers that surprises everyone, with big rallies in both precious metals.
In summary, we are still basically in the same situation described in recent letters, but at lower prices. The point is that both gold and silver are in no-man's land. They have been in short-term downtrend, but both precious metals rest above important support (and their 200-day moving averages).
To break out of the no-man's land, silver once again has to hurdle its overhead resistance at $15. In short, I remain very bullish on both precious metals.