Gold and silver have climbed higher as expected. Both precious metals now look ready to make new multi-month highs.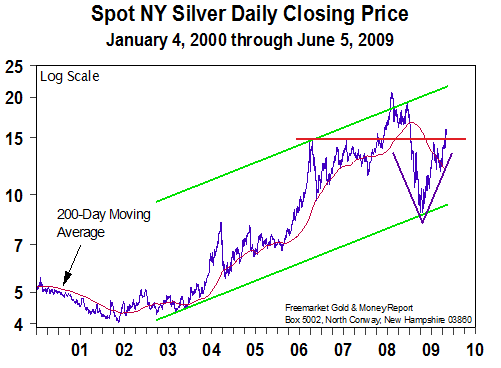 Turning to the accompanying silver chart, we can see that silver has rallied above resistance at $15 (the red horizontal line). We can now expect that the $15 level will offer solid support, and any dips in price toward that level will be met by good, strong buying. It represents silver's new base of support.
This chart shows it is now clear sailing for silver. I expect that silver will now move to $20, its 2008 high.
In summary, we need gold to cross above $1,000. Silver has already taken out its important overhead resistance at $15. Once gold closes above $1,000, I expect a huge move in the precious metals that will take gold to at least $1300 and silver to at least $20. Clearly, I remain very bullish on both precious metals.