September 22, 2010 – The US dollar is staring over the edge of the precipice and is ready to plummet.  Rather than hand the dollar a lifeline, the FOMC in its announcement yesterday pushed the dollar further over the edge.
The FOMC made clear that it is only a matter of time before the Federal Reserve starts pumping again.  So immediately after the FOMC announcement, the dollar fell and the precious metals rose in anticipation of the next round(s) of dollar debasement to come from the Fed's "quantitative easing" policy.
On June 7th the US Dollar Index's bear market rally stopped at 88.41.  It closed yesterday in New York at 80.44, a 9.0% decline in less than four months.  Yesterday's decline also put the Dollar Index below its 200-day moving average, another important indication that the trend for the dollar has turned lower.  The dollar is renewing its long-term downtrend, as we see in the following chart.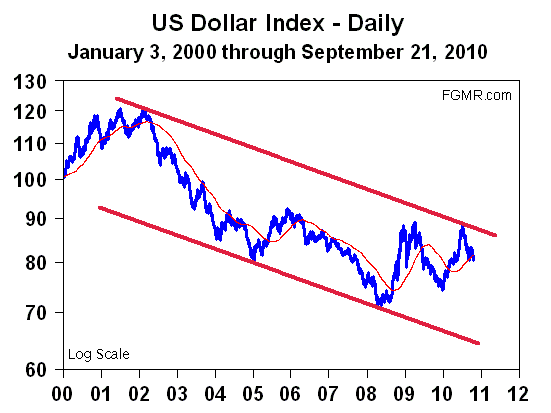 Traders can sell short the US Dollar Index here, but there is a better opportunity for your trading capital.  Buy gold and silver.
For my specific trading recommendations, see Trading.