After the gold/silver ratio broke important support in the 68-69 area, it knifed down all the way to 61.7. The ratio has now bounced back up to test over-head resistance. I expect this test to be successful, and that the ratio will once again move lower.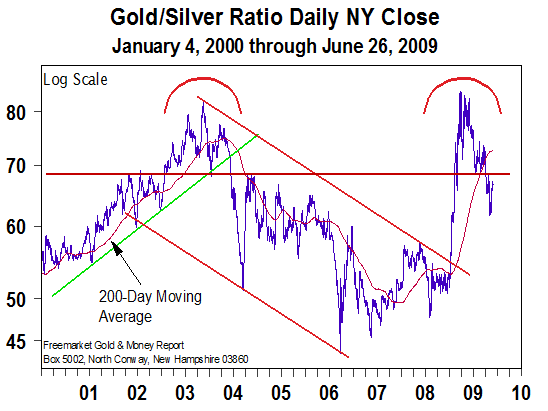 Turning to the accompanying chart of the gold/silver ratio, I've drawn a red horizontal line at 69. I don't expect the ratio to climb that high before turning lower, but rather, it simply marks a key level. It is important from a technical point of view for the ratio to stay below 69. If it fails to do so, the ratio is likely to climb all the way back to resistance at its 200-day moving average, currently at 72.6. This average has been moving sideways for the past week, and is about ready to turn lower if the ratio does not bounce much higher from here.
There is an important double-top in the low 80s, and resistance at that level is formidable, and probably impenetrable. So the long-term picture is one that has the ratio moving lower. That means silver will continue to outperform gold from a long-term point of view. However, we cannot only focus on the long-term.
The 200-day moving average has not yet turned lower. And the ratio has not yet corrected its drop from the low 80's, so there is always the possibility of a bigger bounce. We simply have to stay alert for the possibility of a deeper correction.
In the near-term, which I mean to be sometime this year, we can expect the ratio to move back to the bottom of its trading range at 45. A falling ratio puts silver in a very bullish light.